GRAMMY ADAYLARI AÇIKLANDI
10 Kasım 2023 Cuma 22:46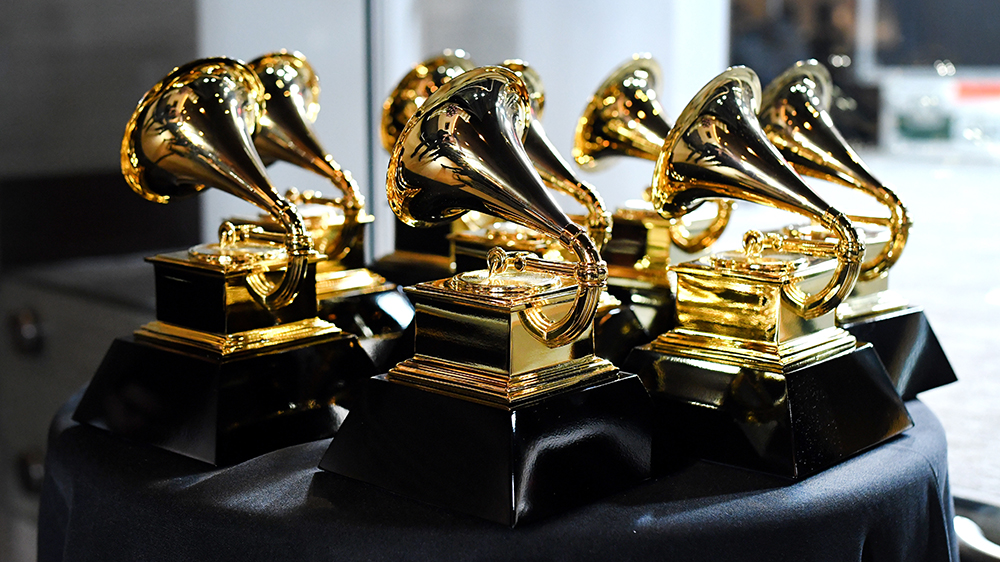 Uluslararası müzik marketin en önemli ödüllerinden Grammylere aday isimler açıklandı. Aday listesinde listede dokuz kategoride SZA öne çıktı. Ödüller, 4 Şubat 2024'te düzenlenecek törenle dağıtılacak. İşte Grammy adayları...

YILIN ALBÜMÜ
World Music Radio- Jon Batiste
The Record- Boygenius
Endless Summer Vacation- Miley Cyrus
Did You Know That There's a Tunnel Under Ocean Blvd- Lana Del Rey
The Age of Pleasure- Janelle Monáe
Guts- Olivia Rodrigo
Midnights- Taylor Swift
SOS- SZA
N-LIFE HABERLERİ
Atatürk'ün balmumu heykeli Berlin'de ziyarete açıldıimg multiple
Atatürk'ün balmumu heykeli Berlin'de ziyarete açıldı
KÜLTÜR&SANAT
Haftanın filmleri (10 Kasım 2023)img multiple
Haftanın filmleri (10 Kasım 2023)
KÜLTÜR&SANAT
İtalyan arkeologlar Türkiye'deki kazılarda yeni bulgular paylaşacakimg multiple
İtalyan arkeologlar Türkiye'deki kazılarda yeni bulgular paylaşacak
KÜLTÜR&SANAT
Eurovision'da sahne alacak ilk şarkıcılar belli olduimg multiple
Eurovision'da sahne alacak ilk şarkıcılar belli oldu

YILIN ŞARKISI
A&W- Jack Antonoff, Lana Del Rey & Sam Dew
Anti-Hero- Jack Antonoff & Taylor Swift
Butterfly- Jon Batiste & Dan Wilson
Dance the Night- Caroline Ailin, Dua Lipa, Mark Ronson & Andrew Wyatt
Flowers- Miley Cyrus, Gregory Aldae Hein & Michael Pollack
Kill Bill -Rob Bisel, Carter Lang & Solána Rowe
Vampire - Daniel Nigro & Olivia Rodrigo
What Was I Made For? - Billie Eilish O'Connell & Finneas O'Connell

YILIN KAYDI
Worship- Jon Batiste
Not Strong Enough- Boygenius
Flowers- Miley Cyrus
What Was I Made For?- Billie Eilish
On My Mama- Victoria Monét
Vampire- Olivia Rodrigo
Anti-Hero- Taylor Swift
Kill Bill- SZA

EN İYİ YENİ SANATÇI
Gracie Abrams
Fred Again
Ice Spice
Jelly Roll
Coco Jones
Noah Kahan
Victoria Monét
The War and Treaty

EN İYİ SOLO POP PERFORMANSI
Flowers- Miley Cyrus
Paint the Town Red- Doja Cat
What Was I Made For?- Billie Eilish
Vampire- Olivia Rodrigo
Anti-Hero- Taylor Swift

EN İYİ GRUP/İKİLİ POP PERFORMANSI
Thousand Miles- Miley Cyrus ve Brandi Carlile
Candy Necklace- Lana Del Rey ve Jon Batiste
Never Felt So Alone- Labrinth ve Billie Eilish
Karma- Taylor Swift ve Ice Spice
Ghost in the Machine- SZA ve Phoebe Bridgers

EN İYİ R&B PERFORMANSI
Summer Too Hot- Chris Brown
Back to Love- Robert Glasper, SiR, Alex Isley
ICU- Coco Jones
How Does It Make You Feel- Victoria Monét
Kill Bill- SZA

EN İYİ RAP ALBÜMÜ
Drake & 21 Savage - Her Loss
Killer Mike - Michael
Metro Boomin - Heroes & Villains
Nas - King's Disease III
Travis Scott - Utopia

EN İYİ COUNTRY ŞARKISI
Brandy Clark - Buried
Chris Stapleton - White Horse
Morgan Wallen - Last Night
Tyler Childers - In Your Love
Zach Bryan ft. Kacey Musgraves - I Remember Everything

EN İYİ GELENEKSEL POP VOKAL ALBÜMÜ
Liz Callaway - To Steve With Love: Liz Callaway Celebrates Sondheim
Rickie Lee Jones - Pieces of Treasure
Laufey - Bewitched
Pentatonix - Holidays Around the World
Bruce Springsteen - Only the Strong Survive
Various - Sondheim Unplugged (The NYC Sessions), Vol. 3

EN İYİ POP VOKAL ALBÜMÜ
Chemistry- Kelly Clarkson
Endless Summer Vacation- Miley Cyrus
GUTS- Olivia Rodrigo
Subtract- Ed Sheeran
Midnights- Taylor Swift

EN İYİ DANS KAYDI
Aphex Twin - Blackbox Life Recorder 21F
James Blake - Loading
Disclosure - Higher Than Ever BEfore
Romy & Fred again.. - Strong
Skrillex, Fred again.. & Flowdan - Rumble

EN İYİ DANS ELEKTRONİK ALBÜMÜ
James Blake - Playing Robots Into Heaven
The Chemical Brothers - For That Beautiful Feeling
Fred again.. - Actual Life 3 (January 1-September 9 2022)
Kx5 - Kx5
Skrillex - Quest for Fire

EN İYİ MODERN ENSTRÜMANTAL ALBÜM
Béla Fleck, Zakir Hussain, Edgar Meyer ft. Rakesh Chaurasia - As We Speak
House of Waters - On Becoming
Bob James - Jazz Hands
Julian Lage - The Layers
Ben Wendel - All One

EN İYİ ROCK PERFORMANSI
Arctic Monkeys - Sculptures of Anything Goes
Black Pumas - More Than a Love Song
Boygenius - Not Strong Enough
Foo Fighters - Rescued
Metallica -Lux Æterna

EN İYİ METAL PERFORMANSI
Disturbed - Bad Man
Ghost - Phantom of the Opera
Metallica - 72 Seasons
Slipknot - Hive Mind
Spiritbox - Jaded

EN İYİ ROCK ŞARKISI
Boygenius - Not Strong Enough
Foo Fighters - Rescued
Olivia Rodrigo - Ballad of a Homeschooled Girl
Queens of the Stone Age - Emotion Sickness
The Rolling Stones - Angry

EN İYİ ROCK ALBÜMÜ
But Here We Are- Foo Fighters
Starcatcher- Greta Van Fleet
72 Seasons- Metallica
This Is Why- Paramore
In Times New Roman… - Queens of the Stone Age

EN İYİ ALTERNATİF MÜZİK ALBÜMÜ
The Car- Arctic Monkeys
The Record- boygenius
Did You Know That There's a Tunnel Under Ocean Blvd- Lana Del Rey
Cracker Island- Gorillaz
I Inside the Old Year Dying- PJ Harvey

EN İYİ R&B PERFORMANSI
Summer Too Hot- Chris Brown
Back to Love- Robert Glasper featuring SiR and Alex Isley
ICU- Coco Jones
How Does It Make You Feel- Victoria Monét
Kill Bill- SZA

EN İYİ GELENEKSEL R&B PERFORMANSI
Babyface ft. Coco Jones - Simple
Kenyon Dixon - Lucky
Victoria Monét ft. Earth, Wind & Fire and Hazel Monét - Hollywood
PJ Morton ft. Susan Carol - Good Morning
SZA - Love Language

EN İYİ R&B ŞARKISI
Coco Jones - ICU
Halle - Angel
Robert Glasper ft. SiR & Alex Isley - Back to Love
SZA - Snooze
Victoria Monét - On My Mama

EN İYİ URBAN MODERN ALBÜMÜ
Rauw Alejandro - Saturno
Karol G -Mañana Será Bonito
Tainy - Data

EN İYİ R&B ALBÜMÜ
Girls Night Out- Babyface
What I Didn't Tell You (Deluxe)- Coco Jones
Special Occasion- Emily King
Jaguar II- Victoria Monét
Clear 2: Soft Life EP- Summer Walker

EN İYİ RAP PERFORMANSI
Baby Keem ft. Kendrick Lamar - The Hillbillies
Black Thought - Love Letter
Coi Leray - Players
Drake & 21 Savage - Rich Flex
Killer Mike ft. André 3000, Future, and Eryn Allen Kane - Scientists & Engineers

EN İYİ RAP TELAFFUZ PERFORMANSI
Sittin' on Top of the World- Burna Boy featuring 21 Savage
Attention- Doja Cat
Spin Bout U- Drake & 21 Savage
All My Life,-Lil Durk featuring J. Cole
Low- SZA

EN İYİ RAP ŞARKISI
Doja Cat - Attention
Nicki Minaj & Ice Spice ft. Aqua - Barbie World
Lil Uzi Vert - Just Wanna Rock
Drake & 21 Savage - Rich Flex
Killer Mike ft. André 3000, Future, and Eryn Allen Kane - Scientists & Engineers

EN İYİ RAP ALBÜMÜ
Drake & 21 Savage - Her Loss
Killer Mike - Michael
Metro Boomin - Heroes & Villains
Nas - King's Disease III
Travis Scott - Utopia

EN İYİ COUNTRY SOLO PERFORMANSI
In Your Love- Tyler Childers
Buried- Brandy Clark
Fast Car- Luke Combs
The Last Thing on My Mind- Dolly Parton
White Horse- Chris Stapleton

EN İYİ COUNTRY GRUP/DUO PERFORMANSI
Dierks Bentley ft. Billy Strings - High Note
Brothers Osborne - Nobody's Nobody
Zach Bryan ft. Kacey Musgraves - I Remember Everything
Vince Gill & Paul Franklin - Kissing Your Picture (Is So Cold)
Jelly Roll with Lainey Wilson - Save Me
Carly Pearce ft. Chris Stapleton - We Don't Fight Anymore

EN İYİ COUNTRY ŞARKISI
Brandy Clark - Buried
Chris Stapleton - White Horse
Morgan Wallen- Last Night
Tyler Childers - In Your Love
Zach Bryan ft. Kacey Musgraves - I Remember Everything

EN İYİ COUNTRY ALBÜMÜ
Rolling Up the Welcome Mat- Kelsea Ballerini
Brothers Osborne- Brothers Osborne
Zach Bryan- Zach Bryan
Rustin' in the Rain- Tyler Childers
Bell Bottom Country- Lainey Wilson

EN İYİ NEW AGE ALBÜMÜ
Kirsten Agresta-Copely - Aquamarine
Omar Akram - Moments of Beauty
Ólafur Arnalds - Some Kind of Peace (Piano Reworks)
David Darling & Hans Christian - Ocean Dreaming Ocean
Carla Patullo ft. Tonality and the Scorchio Quartet - So She Howls

EN İYİ CAZ VOKAL ALBÜMÜ
Patti Austin Featuring Gordon Goodwin's Big Phat Band - For Ella 2
Fred Hersch & Esperanza Spalding - Alive at the Village Vanguard
Gretchen Parlato & Lionel Loueke - Lean In
Cécile McLorin Salvant - Mélusine
Nicole Zuraitis - How Love Begins

EN İYİ CAZ ENSTRÜMANTAL ALBÜM
Kenny Barron - The Source
Lakecia Benjamin - Phoenix
Adam Blackstone - Legacy: The Instrumental Jawn
Billy Childs - The Winds of Change
Pat Metheny - Dream Box

EN İYİ CAZ TOPLULUĞU ALBÜMÜ
ADDA Simfònica, Josep Vicent, Emilio Solla - The Chick Corea Symphony Tribute - Ritmo
Darcy James Argue's Secret Society - Dynamic Maximum Tension
The Count Basie Orchestra Directed By Scotty Barnhart - Basie Swings The Blues
Vince Mendoza & Metropole Orkest - Olympians
Mingus Big Band - The Charles Mingus Centennial Sessions

EN İYİ LATİN CAZ ALBÜMÜ
Eliane Elias - Quietude
Ivan Lins with the Tblisi Symphony Orchestra - My Heart Speaks
Bobby Sanabria Multiverse Big Band - Vox Humana
Luciana Souza & Trio Corrente - Cometa
Miguel Zenón & Luis Perdomo - El Arte Del Bolero Vol. 2

EN İYİ LATİN POP ALBÜMÜ
La Cuarta Hoja- Pablo Alborán
Beautiful Humans, Vol. 1- AleMor
A Ciegas- Paula Arenas
La Neta- Pedro Capó
Don Juan- Maluma
X Mí (Vol. 1)- Gaby Moreno

EN İYİ LATİN ROCK, URBAN VE ALTERNATİF ALBÜMÜ
Cabra - Martínez
Diamante Eléctrico - Leche de Tigre
Juanes - Vida Cotidiana
Natalia Lafourcade - De Todas Las Flores
Fito Paez - EADDA9223

EN İYİ MEKSİKA ALBÜMÜ
Ana Bárbara - Bordado a Mano
Flor de Toloache - Motherflower
Lila Downs - La Sánchez
Lupita Infante - Amor Como en las Películas de Antes
Peso Pluma - Génesis

EN İYİ TROPİKAL LATİN ALBÜMÜ
Rubén Blades con Roberto Delgado & Orquesta - Siembra: 45(degree) Aniversario (En Vivo en el Coliseo de Puerto Rico, 14 de Mayo 2022)
Luis Figueroa - Voy A Ti
Grupo Niche Y Orquesta Sinfónica Nacional de Colombia - Niche Sinfónico
Omara Portuondo - Vida
Tony Succar, Mimy Succar - Mimy & Tony
Carlos Vives - Escalona Nunca Se Había Grabado Así

EN İYİ AMERİKAN ALBÜMÜ
Brandy Clark - Brandy Clark
Rodney Crowell - The Chicago Sessions
Rhiannon Giddens - You're the One
Jason Isbell and the 400 Unit - Weathervanes
Allison Russell - The Returner

EN İYİ BLUEGRASS ALBÜMÜ
Sam Bush - Radio John: Songs of John Hartford
Michael Cleveland - Lovin' of the Game
Mighty Poplar - Mighty Poplar
Willie Nelson - Bluegrass
Billy Strings - Me/And/Dad
Molly Tuttle & Golden Highway - City of Gold

EN İYİ GELENEKSEL BLUES ALBÜMÜ
Eric Bibb - Ridin'
Mr. Sipp - The Soul Side of Sipp
Tracy Nelson - Life Don't Miss Nobody
John Primer - Teardrops For Magic Slim Live At Rosa's Lounge
Bobby Rush - All My Love for You

EN İYİ MODERN BLUES ALBÜMÜ
Samantha Fish And Jesse Dayton - Death Wish Blues
Ruthie Foster - Healing Time
Christone "Kingfish" Ingram - Live in London
Larkin Poe - Blood Harmony
Bettye LaVette - LaVette!

EN İYİ FOLK ALBÜMÜ
Dom Flemons - Traveling Wildfire
The Milk Carton Kids - I Only See the Moon
Joni Mitchell - Joni Mitchell at Newport [Live]
Nickel Creek - Celebrants
Old Crow Medicine Show - Jubilee
Paul Simon - Psalms
Rufus Wainwright - Folkocracy

EN İYİ ROOTS MÜZİK ALBÜMÜ
Buckwheat Zydeco Jr. & The Legendary Ils Sont Partis Band - New Beginnings
Dwayne Dopsie & The Zydeco Hellraisers - Live At The 2023 New Orleans Jazz & Heritage Festival
Lost Bayou Ramblers & Louisiana Philharmonic Orchestra - Live: Orpheum Theater Nola
New Breed Bass Band - Made in New Orleans
New Orleans Nightcrawlers - Too Much to Hold
The Rumble Feature Chief Joseph Boudreaux Jr. - Live at the Maple Leaf

EN İYİ REGGAE ALBÜMÜ
Buju Banton - Born For Greatness
Beenie Man - Simma
Collie Buddz - Cali Roots Riddim 2023
Burning Spear - No Destroyer
Julian Marley & Antacus - Colors of Royal

EN İYİ DÜNYA MÜZİĞİ ALBÜMÜ
Susana Baca- Epifanías
Bokanté - History
Burna Boy - I Told Them…
Davido - Timeless
Shakti - This Moment

EN İYİ ÇOCUK MÜZİĞİ ALBÜMÜ
Andrew & Polly - Ahhhhh!
Pierce Freelon & Nnenna Freelon - Ancestars
DJ Willy Wow! - Hip Hope for Kids!
Uncle Jumbo - Taste The Sky
123 Andrés - We Grow Together Preschool Songs

EN İYİ KOMEDİ ALBÜMÜ
Trevor Noah - I Wish You Would
Wanda Sykes - I'm An Entertainer
Chris Rock - Selective Outrage
Sarah Silverman - Someone You Love
Dave Chappelle - What's In A Name?

EN İYİ MÜZİKAL ALBÜMÜ
Kimberly Akimbo
Parade
Shucked
Some Like It Hot
Sweeney Todd: The Demon Barber of Fleet Street

EN İYİ TOPLAMA SOUNDTRACK ALBÜMÜ
Daisy Jones & The Six - Aurora
Various Artists - Barbie The Album
Various Artists - Black Panther: Wakanda Forever - Music From and Inspired By
Various Artists - Guardians of the Galaxy, Vol. 3: Awesome Mix, Vol. 3
Weird Al Yankovic- Weird: The Al Yankovic Story

EN İYİ FİLM MÜZİĞİ
Moonage Daydream
How I'm Feeling Now
Live From Paris, The Big Steppers Tour
I Am Everything
Dear Mama

EN İYİ ARANJMAN, ENSTÜMANTAL, A CAPELLA
Hilario Duran And His Latin Jazz Big Band Featuring Paquito D'Rivera - I Remember Mingus
Just 6 - Angels We Have Heard On High
Ludwig Göransson - Can You Hear the Music
The String Revolution ft. Tommy Emmanuel - Folsom Prison Blues
Wednesday Addams - Paint It Black

EN İYİ ARANJMAN, ENSTÜMAN VE VOKAL
Cécile McLorin Salvant - Fenestra
Maria Mendes ft. John Beasley & Metropole Orkest - Com Que Voz (Live)
Patti Austin ft. Gordon Goodwin's Big Phat Band - April in Paris
säje ft. Jacob Collier - In the Wee Small Hours of the Morning
Samara Joy - Lush Life

YILIN PRODÜKTÖRÜ (KLASİK OLMAYAN)
Jack Antonoff
Dernst "D'Mile" Emile II
Hit-Boy
Metro Boomin
Daniel Nigro

YILIN PRODÜKTÖRÜ (KLASİK)
David Frost
Morten Lindberg
Dmitriy Lipay
Elaine Martone
Brian Pidgeon

EN İYİ REMİKS KAYDI
Depeche Mode - Wagging Tongue (Wet Leg Remix)
Gorillas ft. Tame Impala & Booty Brown - New Gold (Dom Dolla Remix)
Lane 8 - Reviver (Totally Enormous Extinct Dinosaurs Remix)
Mariah Carey - Workin' Hard (Terry Hunter Remix)
Turnstile and Badbadnotgood ft. Blood Orange - Alien Love Call

EN İYİ KLASİK ENSTRÜMANTAL SOLO
Robert Black - Adams, John Luther: Darkness And Scattered Light
Andy Akiho - Akiho: Cylinders
Yuja Wang; Teddy Abrams, conductor (Louisville Orchestra) - The American Project
Seth Parker Woods - Difficult Grace
Curtis Stewart - Of Love

EN İYİ KLİP
The Beatles - I'm Only Sleeping
Tyler Childers - In Your Love
Billie Eilish - What Was I Made For
Kendrick Lamar - Count Me Out
Troye Sivan - Rush

EN İYİ MÜZİK FİLMİ
Moonage Daydream
How I'm Feeling Now
Live From Paris, The Big Steppers Tour
I Am Everything
Dear Mama
Diğer Haberler